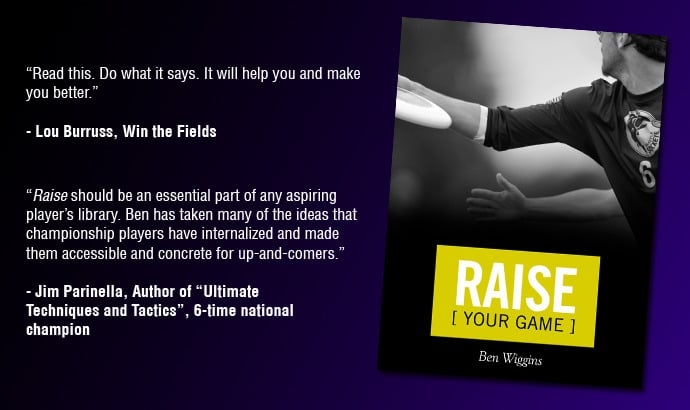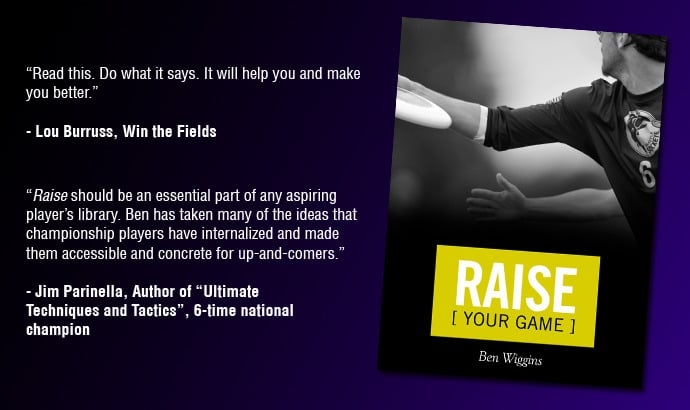 Raise Your Game
$10.00
"You can be a much better player next year. Your team can play much better Ultimate this year."
Skyd Magazine presents one of the most insightful guides on success and growth in the sport of ultimate ever conceived, by Ben Wiggins --- 3-time National Champion and world renowned coach.
Now in convenient and beautifully designed ebook form (featuring the stunning photographer of Scobel Wiggins), "Raise Your Game" provides an unparalleled perspective on becoming a better player and developing a better team.
Support Ultimate: Proceeds from the sale of this ebook benefit the Seattle Ultimate Foundation's Youth College Scholarship. The SUFYCS is awarded annually to one male and one female college-bound ultimate player from the greater Seattle area. www.seattleultimatefoundation.org
Design by Rob Whitehouse of www.hoorayokay.com
Content within this ebook was originally posted on Skyd Magazine.
License Information:
Individual Copy - Purchase of an Individual Copy of this e-book entitles you to a digital copy for personal use and any updates.
Team Copy - Rather than buy 25 individual copies for your team, save hundreds with a Team License. With a Team License you can educate your entire squad and legally pass on copies of "Raise Your Game" to members of your current team roster. Purchase of a Team Copy of this ebook entitles you and your team to a digital copy for team use (current roster only) and any updates.
Notice: Sales of this ebook go directly to supporting its author and contributors. Please help support this product and more products like it by not sharing it with those who haven't purchased it or downloading it from an unauthorized source.
"Raise Your Game" is best viewed in Adobe Acrobat.
About the author:
Ben Wiggins replaced basketball with Ultimate as a freshman at the University of Oregon in the fall of 1998. In 2003, Oregon took the Northwest Region's single bid to the UPA College Championships from a strong field that included Stanford, the defending champs, and made a run all the way to the national final. Before the game, Wiggins was voted winner of the Callahan Award college ultimate's Heisman Trophy.
After playing several club seasons with Rhino precursor Portland Axe, Ben moved to Seattle and joined Sockeye in its run to the 2004 UPA Championship. Ben would go on to win two more championships with Sockeye as a captain and primary offensive handler in 2006 and 2007 as well as two silver medals at the World Championships first in 2008, when Sockeye represented Team USA and then in 2010 with an extremely young and unheralded Sockeye squad in Prague 2010; the 2010 team won the Spirit award as well.
From 2004-2008, Ben worked with Seattle youth program Moho, the result of which was a number of juniors making their ways onto Sockeye and Riot. In 2004, Ben was an assistant with the USA Boys Junior Worlds team that won gold in Finland. In 2005 he helped develop the youth Ultimate program which sent many players on to Sockeye and Riot. Ben has also coached Seattle area women's teams Viva and Underground as well as the Western Washington University men's club.
Along with Andy Lovseth, Ben founded and ran The-Huddle.org, a high-level strategy and tactics online magazine for Ultimate. He has run coaching clinics in the Philippines, Colombia, Moscow and Siberia, Ireland, Japan and the Czech Republic.
Chronic concussions made 2010 Ben's last season as a player, and he now coaches Voodoo, Seattle's second men's team, and has finally made his way back to playing basketball on a daily basis—when he isn't looking for the next international coaching opportunity, that is.
Problems with the ebook? Email store@skydmagazine.com.
Praise for "Raise":
"Read this. Do what it says. It will help you and make you better."
- Lou Burruss, Win the Fields
"Raise should be an essential part of any aspiring player's library. Ben has taken many of the ideas that championship players have internalized and made them accessible and concrete for up-and-comers."
- Jim Parinella, Author of "Ultimate Techniques and Tactics", 6-time national champion