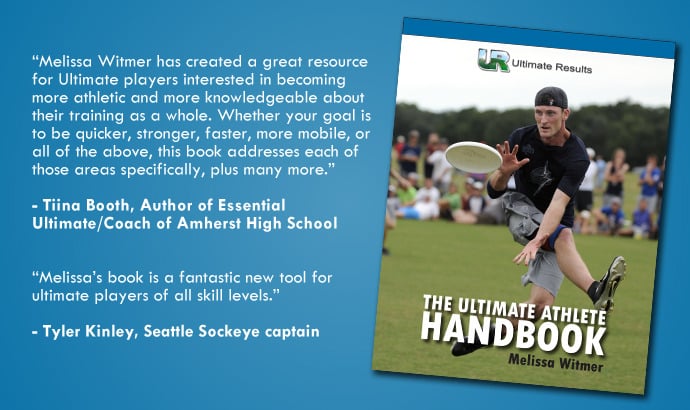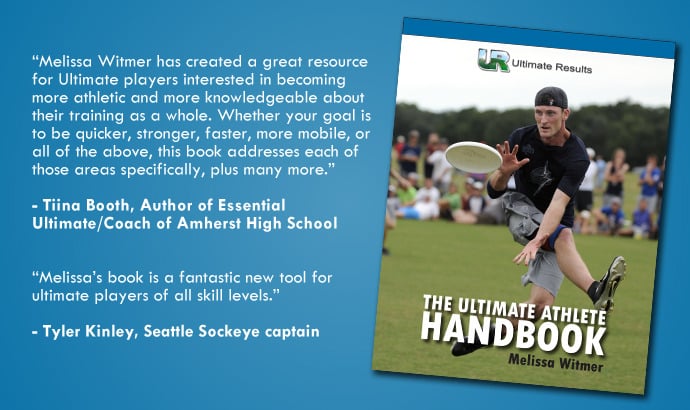 The Ultimate Athlete Handbook
$15.00
Melissa Witmer brings you The Ultimate Athlete Handbook - a guide to forging optimal fitness specifically for the sport of Ultimate. The book includes sample workouts, training explanations, and video demonstrations, as well as some great photography from UltiPhotos.com.
It's a fantastic book for beginners who participate at the league and the high school level to start developing a more serious training foundation for the sport. Further, it's an excellent resource for more serious athletes looking to augment their training regimen.
Grab your copy today!
Support a good cause: $1 from the sale of each copy goes to Ultimate Peace
License Information:
Individual Copy - Purchase of an Individual Copy of this e-book entitles you to a digital copy for personal use and any updates.
Team Copy - Rather than buy 25 individual copies for your team, save hundreds with a Team License. With a Team License you can educate your entire squad and legally pass on copies of The Ultimate Athlete Handbook to members of your current team roster. Purchase of a Team Copy of this ebook entitles you and your team to a digital copy for team use (current roster only) and any updates.
Notice: Sales of this ebook go directly to supporting its author and contributors. Please help support this product and more products like it by not sharing it with those who haven't purchased it or downloading it from an unauthorized source.
The Ultimate Athlete Handbook is best viewed in Adobe Acrobat. Other readers may not be able to view embedded content. However, there are links included in case embeds are inaccessible.
About the author:
Melissa Witmer dropped out of Chemistry at the University of Illinois in favor of playing more Ultimate and earning a Masters in Kinesiology. She has several years of coaching experience with both college and high school players. In 2010 she began Ultimate Results with the goal of providing better, Ultimate specific fitness and coaching resources to team captains and coaches. Melissa currently practices with DC Scandal.
Find out more about Melissa at UltyResults.com and MelissasUltimateFitness.com
Problems with the ebook? Email [email protected].
Reviews: